Welcome to Erica's Craft Room
100 Cricut Cartridge Blog Hop Day ONE
If you came to my blog from
Kathy Salido's Blog
then you are right on track. I will provide today's full line up at the end of this post in case you get lost along the way!
On my first project I used cricut cartridges: Love you a Latte, Kate's ABC's

I cut the Teapot at 3 inches and then left the setting at 3 inches so the other pieces would cut at the correct Dimensions. So the cups were cut at 3 inches also but using craft room I flipped 1 of the cups. I added hot cocoa stickles in dots around the cups and the tea pot. I also used it to make the tea bag string show up and the little tag at the end of the teabag. The Tray in the upper left corner was also cut at 3 inches and I did it in layers and used Hot Chocolate stickles to make the cute little saying stand out.
I used the cream and sugar cut to make the mat for the photo to be placed later on.I inked the edges in brown on the photo mat and around the whole layout to give it a vintage feel.. I also used a wide vintage lace as the table top to also add to the vintage look. I used Kat's ABC's to make the flower cuts and the swirl cut. I placed Liquid Pearls in the centers of all the flowers.
On this next project I used Cricut Cartridge Tis The Season and Mr Frosty
I once again Inked the edges of my Kraft Colored card stock to age it a little. Then I used a Blue card stock and embossed it with a Snow flake Embossing folder and inked the edges of it also. The Winter Wonderland saying was cut at 4 inches I then places a piece of textured shimmer paper on the bottom of the card to use as snow. The snowman and all his layers were cut at 4 inches because it will automatically cut the corresponding pieces at the right size to piece together. I did this project in craft room also and used the Cricut Imagine Cartridge Mr Frosty to color the mittens and scarf in a cute pink mitten print.I then used light pink Stickles glitter glue to out line the scarf and mittens. I used black liquid pearls to outline the snow man and his earmuffs and buttons. I don't know how I got by with out craft room to create my projects in. I love it and am lost when it is down! Well those are my projects for the October 100 Cartridge Blog Hop. I hope you enjoyed your little visit to my blog:)
Next you should be going to The Awesome and Talented
Claire's Blog
Now be sure to visit Erica's store for all thing Cricut and More!!!Here is the link to her store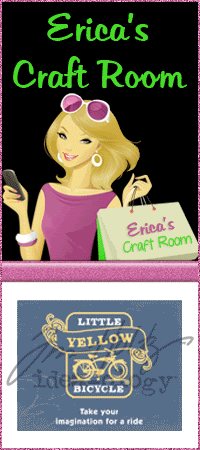 Here is the promised full line up for todays hop!!!
MCCR http://mycricutcraftroom.blogspot.com/
Kathy http://3spoileddogs.blogspot.com/
Shelley http://shelley-scrapbookingforfun.blogspot.com/
Claire http://threewaterscreations.blogspot.com/
Mary http://Mary-fortheloveofart.blogspot.com/
Lisa Chamberlain http://lisacustomscrapbooking.blogspot.com/
Nadja http://nadjarobbins.blogspot.com/
Janet http://janetscreativeworld.blogspot.com/
Jenn Lorist http://www.jennspapercrafts.blogspot.com/
Erica's Projects http://ericasprojects.blogspot.com/
Angie http://crazyscraplady-angelpie.blogspot.com/
Heather http://heathernovinger.blogspot.com/
Robin http://create-a-latte.blogspot.com/
Teresa http://www.createenjoyshare.blogspot.com/
Tammy http://www.Cuttinandstampin.blogspot.com/
Cathy http://cathyplus5.blogspot.com/
Lisa carrier http://ourcraftingcorner.blogspot.com/
Jessica S http://jessicascraftshaque.blogspot.com/
Blog Candy http://ericasblogcandy.blogspot.com/