Welcome to Card Creating Tuesday with My Cricut Craft Room!!!
As you can see Erica has gone to all pink graphics in support of breast cancer awareness!
I am very proud to be part of this team!
The cartridges I used on today's project are Pink Journey, Life's a Beach, and Forever Young.
I chose the Pink Card Option as my project today and I went all pink:)
On my project I used the Pink Journey Cartridge for the wording Wear Pink. I cut it at 1.75 inches and did it in the standard cut and the shadow cut and layered 2 colors of pink and also used Pink Stickles glitter glue.
I used Cricut Cartride Forever Young to cut the sunglasses, Flip Flops and Bikini. I also used Imagine Pattern cartridges Blossom and Bubble Gum stripes for all of the solids and prints in the cuts. The sun glasses are on page 47 of your booklet I used the shadow cut, sun glass 5 cut and the layer cut for the lenses. It says not available on the lens cut in the booklet but is craft room it was available. I cut the glasses at 1.75 inches. The bikini was also cut at 1.75 inches. You will find the bikini on page 61 of your booklet. It is listed as Lingerie but it works for a bikini! The cute plaid print is from the Blossom Imagine cartridge. The flip flops are on page 64 of the Lifes a Beach booklet I cut them at 1.75 in the standard cut and in the shadow cut.
I hope you enjoyed seeing my Pink project. My very talented Design Team Sisters have projects to show you so head back to
My Cricut Craft Room
to see what they have to show you!
As always for all things Cricut and More visit Erica's store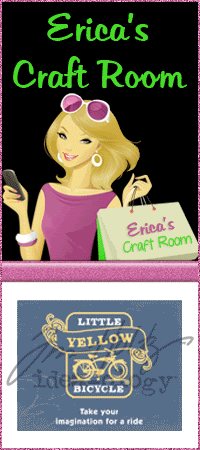 I love to here from you so please leave me a comment. If you are a new follower please include your blog link so I can follow you in return!