Welcome to the Pinque Peacock luck of the irish blog hop!!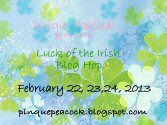 Showcasing some of
the Newly Appointed
Pinque Peacock Artists and Creators:
"The Pinquettes"
This is the First Ever Blog Hop hosted by
Pinque Peacock
and presenting the Talented Works of The Pinquettes. We hope you will sit back, enjoy your time as you hop, and maybe even learn a new trick or technique to try out yourself, too.
This hop will share projects created with St. Patrick's Day and the "Luck of the Irish" in mind.
Now, you don't have to be Irish to be the Lucky Winner of the Pinque Peacock Sponsored Prize.
One winner, who has hopped all 3 days (Friday, Saturday, and Sunday) will win this . . . .
Do YOU want to WIN?
Here is How*:
1 – Hop to ALL of the stops over the course of the 3 Day Hop and comment at each Pinquette Blog (Lineup for all 3 Days is below)
3 – Follow EACH of the Pinquettes' Personal Blogs who are participating as Hop Stops this weekend.
*You MUST do ALL of the steps above to be included in the random drawing for the prize
The Hop will remain open until Monday, February 25th, 8:00 a.m. EST.
The random drawing will be held during that week and announced by Friday, March 1st.
Now for the info on where to find what I have used on this card!!!!
That beautiful Bloom is available right
Here at Pinque Peacock of course!!!
and the beautiful Stick Pin is available
Here at Pinque Peacock
!!! Every item that Pinque Peacock sells is hand made with quality and uniqueness in mind!!!
Now the Lime Chevron ribbon, yellow polka dot papers and yellow chevron paper are all available in my A Muse Studio Store The stamp I used for the sentiment is also A Muse and the set is called Essential Sentiments and believe me any that you need are in this set!!! To purchase click on my Amuse Studio Store Blinkie on the right hand top of my blog!!!
Now, if you find yourself Hopping off the Path on any of the three days, you can use this Lineup to get back on the Right Track . . .